October Birthstone Jewelry: The Opulent Opal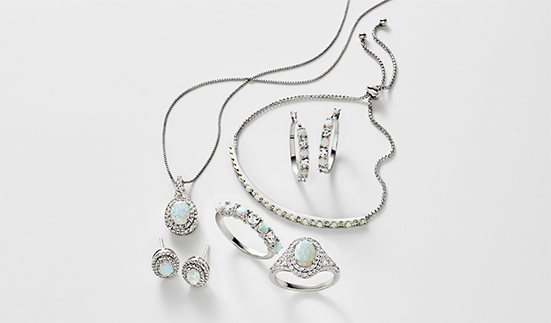 If you were born in October, you're lucky enough to call the opal your birthstone. The name "opal" comes from the Latin word "opalus" which means "precious jewel" and the Greek word "opallios" meaning "to see a change of color" – this is because precious opals are fiery gemstones that refract an entire spectrum of color. A gem prized by royalty and religious figures throughout history, the opal symbolizes faithfulness, confidence, and love.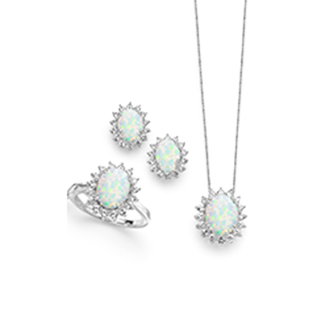 What is the October Birthstone? Composition and History
The opal is a unique gemstone because it's not actually a mineral, but rather a mineraloid. This is because the composition of an opal is amorphous, formed of water and microscopic spheres of silica. In precious opals, these silica spheres are stacked on top of each other in thin layers which refract the light like a prism, giving the opal its fiery "play-of-color," or iridescence. Common opals also exist, but their structure doesn't allow any light to pass through the same way, so they don't exhibit any iridescent "play-of-color".
Opals have existed since the days of Ancient Greece and Rome. The Greeks believed opals would bestow the powers of prophecy and foresight, while the Romans believed opals were the most powerful of all the gemstones because they contained the colors of all other stones. Most opals today (about 95%) are mined in Australia, but other major opal deposits have been discovered in Ethiopia, Nevada, Mexico, and Idaho. In 2008, NASA even announced it had found opal deposits on Mars.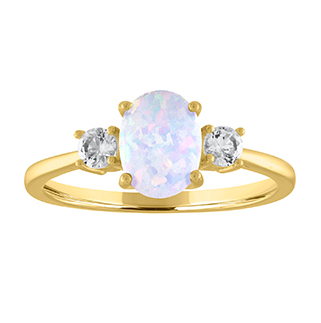 What Color is Opal?
As mentioned above, precious opals have a distinct play-of-color quality, allowing light to pass through the silicon spheres and display a rainbow of color – but there are also specific colors of opal. White opals are the most common, and these are considered to be the true October birthstone. Fire opals mostly lack the shimmering play of color, and are instead a translucent red, yellow, or orange. Black opals are the rarest form of opal with a mostly dark background, usually dark gray or blue-black, allowing a bolder play-of-color because of the contrast. These variations occur due to the conditions under which the opal was formed, but all you need to remember is this: the darker and more multicolored the opal, the rarer and more valuable it is.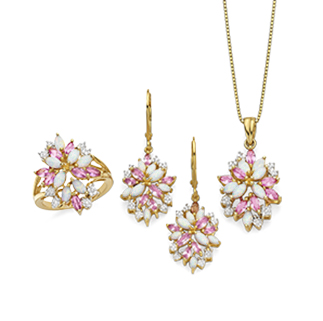 Genuine vs. Lab-Created Opal
When the layered spherical structure of precious opal was discovered by scientists, it enabled them to create artificial opal in 1974. Since then, the creation of lab-created opals has been refined to the point where they are almost indistinguishable from genuine opals; the primary giveaway is that lab-created opals don't contain any inclusions, whereas genuine opals do. As with other lab-created gemstones, lab-created opals are a more affordable option for those seeking to purchase opal jewelry, while still retaining the look and feel of genuine opals.
How to Care for Opal Jewelry
It's important to be gentle with your opal jewelry. Opals are more fragile than most gemstones, ranked 5.5-6 on the Mohs scale of hardness, or about the same as glass – so you should try to avoid manual labor or vigorous activities while wearing opal jewelry. When it comes to cleaning opals, you should never us an ultrasonic cleaner. The extreme vibrations could cause the opal to crack. You should also avoid cleaners like bleach and chemicals. The best way to clean opals is with mild detergent in warm water using a soft toothbrush or cloth – and if you really want to get it looking like new, you can have your opal jewelry professionally polished.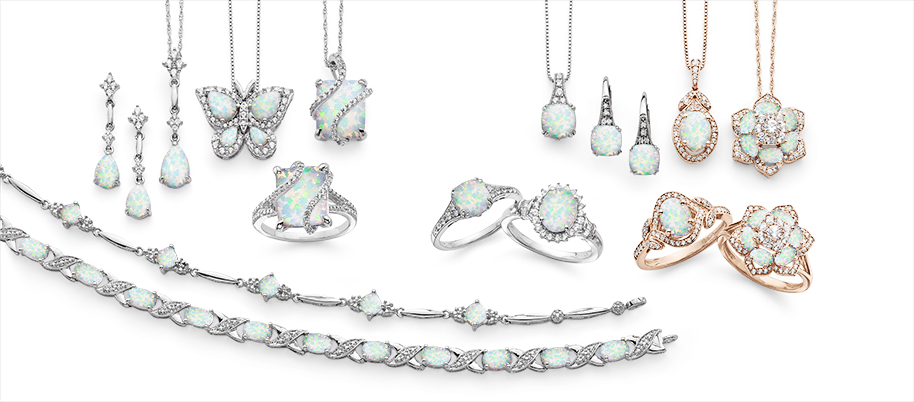 At JCPenney, we have a beautiful collection of genuine and lab-created opal jewelry, including pendant necklaces, cocktail rings, and tennis bracelets to name a few. Any one of our opal birthstone jewelry pieces would make the perfect birthday gift for a loved one, or a special treat for yourself. We also offer special financing with using a JCPenney credit card for fine jewelry purchases. Shop online and save more today!