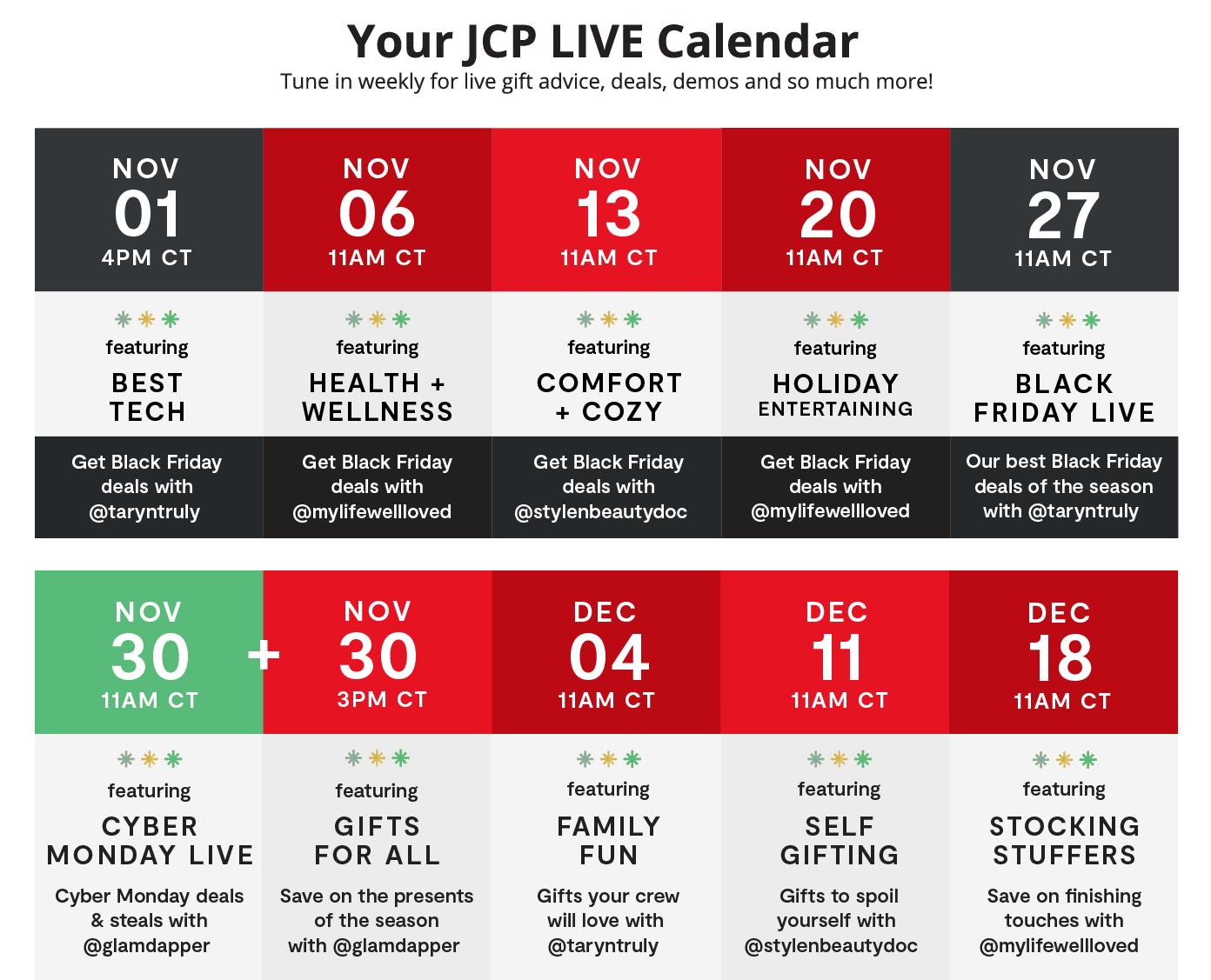 Save Huge at JCPenney
Are you thinking of buying gifts for your loved ones? Find amazing deals this holiday season, such as Black Friday deals, Cyber Monday deals, and Gift Hub deals with us every Friday, and save big. We will be revealing these deals through JCP Live, which will be live streaming every Friday. Get cozy this fall season by layering a sweater or jacket with your outfit. This Black Friday, get amazing deals on boots, jewelry, and home accessories.
Discover innovative gifts for your loved ones at a great price with our Cyber Monday deals. We have great offers running on our gifts page that are sorted by price range. Think of any price range, and we've got you covered. Pamper yourself with our salon-ready and beauty products from Sephora. At JCPenney, you'll get a plethora of Stocking Stuffers and last-minute gift ideas that will never let you down. Embellish your home décor by mixing the flavor of the fall season with our exclusive bedding and lifestyle sections.
Explore our range of bed sheets, comforter sets, and feel cozy in the cold temperatures. Renovate your kitchen with the best small kitchen appliances such as blenders, crockery sets, cutlery sets, etc. From jewelry to home décor, home appliances to toys, activewear to loungewear, tech gifts to novelty gifts, you'll find anything of your choice.
JCP Live
JCP Live is coming to you today with deals SO BIG you won't believe it. Every Friday, get a chance to watch influencers highlight the benefits and features of the best holiday deals and gifts. Shaquille O' Neal will have fun segments running with the live stream. Find the pre-recorded Livestream on our Facebook & YouTube. Participate in the live forum and win gift cards. Tune into JCP Live next Friday for new deals on holiday gifts for the entire family.