How to Choose
the Perfect Wedding Band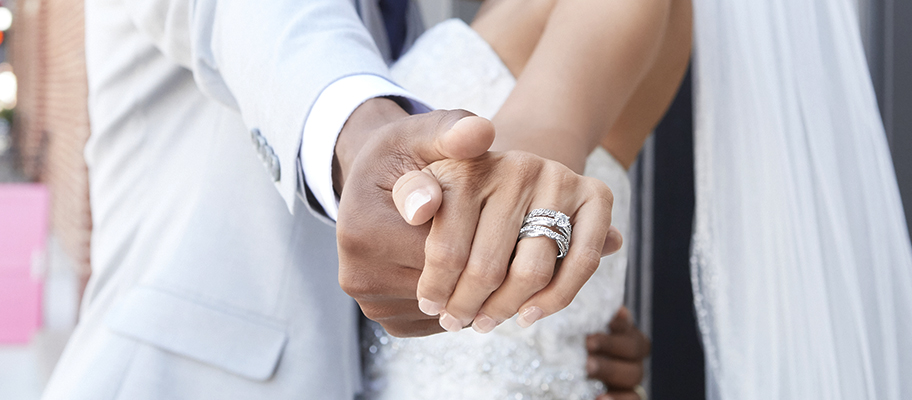 You've already chosen your engagement ring and proposed to your partner – congratulations! Now comes the next big step: picking the perfect wedding bands. There are many factors to take into consideration when selecting a wedding band, but JCPenney is here to help answer your questions so you can find wedding bands that you and your partner will both love. But first things first.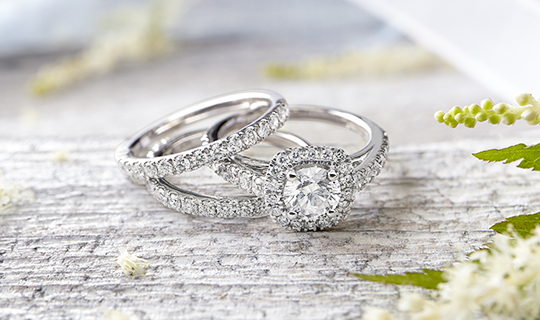 What is a Wedding Band?
A wedding band (also known as a wedding ring) is a symbol of love and commitment between partners. These bands have no defined beginning or end, representing eternity and the aspirations of the marriage. This means choosing the right wedding band is important, because it's something you will wear for the rest of your life.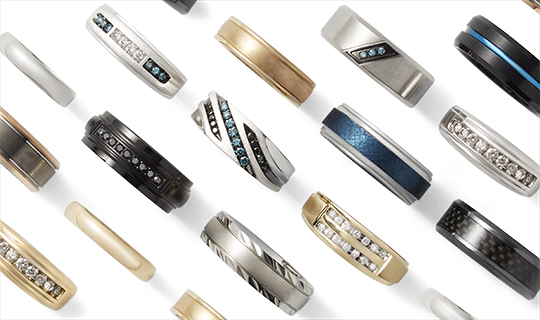 When to Buy the Wedding Bands?
Shopping for wedding bands is one of the earlier steps in preparing for your wedding. You want to give yourself time to select the right ones and make sure they can be resized (if needed) in time for the ceremony. The search for the right rings should start about four months before the wedding, with the actual purchase taking place 4-6 weeks before the big day.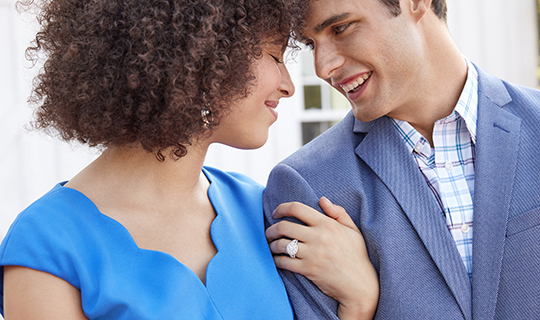 Who Buys the Wedding Bands?
Traditionally, you will purchase your partner's wedding band for them, and they will purchase yours for you. This can be viewed as a lovely surprise or romantic gesture on the wedding day, but some couples prefer to shop for the wedding bands together – especially if you want to coordinate matching styles. There's no hard rule here, though, so it's really up to couples to decide how they want to purchase the bands.
Which Wedding Band Style Should You Choose?
As mentioned above, some couples decide to purchase wedding bands that match each other – meaning two gold bands, or two silver bands, etc. – to highlight the unity of the marriage. However, it's more common practice today for each person to have a wedding band that suits their unique personalities. This opens up a world of possibilities to find the perfect wedding band for yourself and your partner.
When it comes to women's wedding bands, there are considerations to be made in relation to the engagement ring. Do you go for a matching bridal set, where the engagement ring and wedding band match together? Or do you choose an engagement ring enhancer, where the wedding band meshes with the engagement ring in a near-seamless fashion? Most brides want one of these two options, but of course you can choose a wedding band that simply complements the engagement ring, rather than matching perfectly. At JCPenney, we carry a wide assortment of diamond wedding bands available in gold, silver, platinum and more. But if simplicity is more your style, we have plenty of no-stone women's wedding bands to choose from.
While men's wedding bands have historically been viewed as an afterthought, we believe great care should be taken when selecting the right ring – and there are so many styles to choose from! You can select a traditional men's no-stone gold wedding band, which is a classic look for sure, but there are plenty of bands with diamonds to choose from. Alternative metals are also increasingly popular, such as tungsten, titanium, and even ceramic wedding bands, available in a variety of sizes and finishes.
Does the Wedding Band Go on First?
With wedding rings, they always go on first, followed by your engagement ring. This allows your wedding ring to be closest to your heart, further symbolizing your love and commitment to your partner. To avoid confusion on the wedding day, you typically remove the engagement ring and then put it back on once the wedding ring has been placed.
Where to Buy Wedding Bands?
You can find a great assortment of wedding bands for men and women in the Modern Bride wedding jewelry collection at JCPenney. From gorgeous bridal sets to standalone wedding rings in a variety of style, you can find the perfect wedding bands for your wedding at an affordable price. We even offer special financing and lifetime warranties to protect your statements of love.