April Birthstone: Diamond and White Sapphire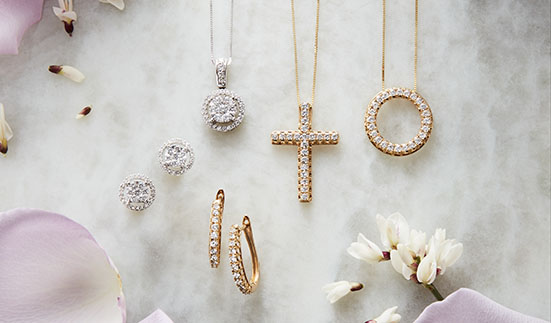 Diamond is the traditional birthstone of April, the hardest gemstone on the Mohs scale of hardness, and the hardest naturally occurring mineral on earth. In fact, the name "diamond" comes from the Greek word "adamas" which means invincible or untamed. The diamond's strength has made it a popular stone throughout history, symbolizing fearlessness and courage – but it's not the only birthstone for April! An alternative April birthstone is the white sapphire, which can be a stunning alternative to diamond. Keep reading to learn more about the April birthstones.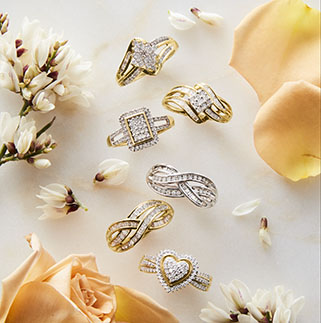 History and Meaning of the Diamond
Throughout history, the diamond has been believed to possess a variety of supernatural powers: ensuring victory to the person who carries it bound to their left arm, relieving panic attacks, and repelling enchantments – just to name a few. Diamond rings can also be traced back to Ancient Rome and the Middle Ages. In Rome, they believed the diamond warded of poison, fear and insanity. Medieval Italians called it the "Stone of Reconciliation" and used it as a formal agreement between husband and wife; however, they did not use cut and polished diamonds the way we do today.
The popularity of the modern diamond engagement ring is directly tied to the marketing campaigns of De Beers beginning in 1938, due to the large amount of diamonds suddenly available at the time. To find the best engagement ring, read our Engagement Rings 101 article and learn about the 4Cs of diamonds, as well shape, style, and fit.
What is a White Sapphire?
White sapphire is simply a colorless sapphire. While sapphires are typically thought of as a blue gemstone, they can naturally occur in a spectrum of colors, including green, orange, pink, and white – with white being the rarest color.
Because of this rarity, natural white sapphires are extremely expensive, so most white sapphires you find in jewelry are either yellow or gray sapphires that have been treated to look white, or they are lab created white sapphires that are made by a method called Flame Fusion. These lab created stones have the same properties, hardness, and appearance has a natural sapphire, but for a fraction of the price. The brilliance of lab created white sapphire also makes them a great alternative to cubic zirconia, and a compelling substitute for diamond jewelry. To learn more about natural sapphires, read our sapphire birthstone guide.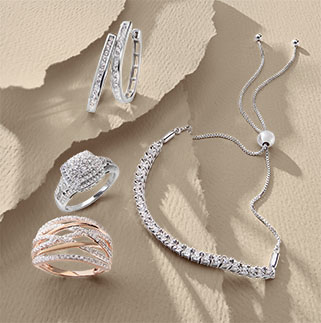 How to Care for Diamonds and White Sapphires: Cleaning and Storage
Diamonds are the hardest gemstone on the Mohs Scale of Hardness, and sapphires are the second hardest, making both of these gemstones a great option for every day jewelry – especially rings and bracelets that can withstand daily wear and use.
The best way to clean both diamonds and white sapphires is with a solution of mild soap and warm water to degrease the stones. You can also use a soft brush or cloth if your jewelry got particularly dirty. Once the gemstones are clean, dry them off with a lint-free cloth and your jewelry will look as good as new.
For storage of diamonds and white sapphires, they should not be stored together. Because the diamond is harder, it can scratch the surface of your sapphire. Likewise, neither of these stones should be stored with other softer gemstones like opals, garnets, or amethyst to avoid unwanted scratching on those pieces.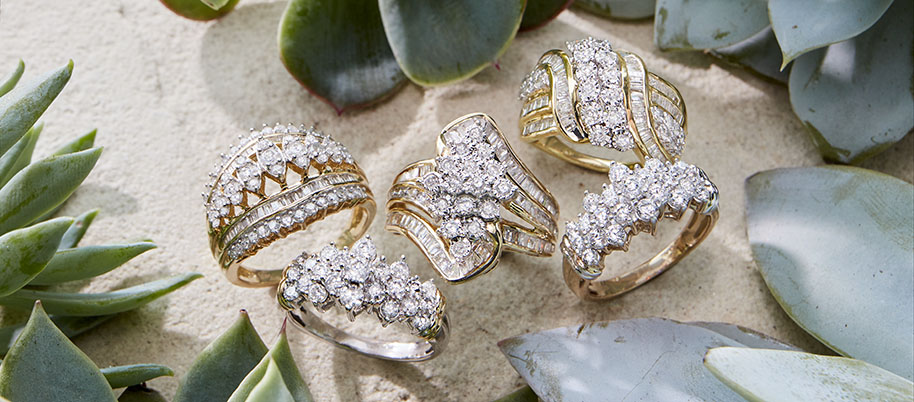 At JCPenney, we have a brilliant collection of diamond jewelry and lab created white sapphire jewelry to help you find the perfect April birthstone jewelry piece – from diamond tennis bracelets and drop earrings, to white sapphire necklaces and rings. We also offer special financing on fine jewelry purchases if you use your JCPenney Credit Card. Shop online for April birthstone jewelry today and find your next favorite piece.